Finding the right formal wholesale maxi dresses for petite women is hard, but it is not impossible. Even though your daily style might be mainly casual, you still need some formal maxi dresses for occasions like a black-tie party or a formal event. It is a wardrobe that every petite woman must have.
And if you are short, wearing petite formal maxi dresses can also be highly flattering for you. It creates a constant series of colors to give the illusion of length. Back in the days, some people once gave the impression that maxi-length dresses was only appropriate for women to wear on the beach. Nowadays, many designers are making maxi full-length dresses. The most important thing is to keep the silhouette simple, such as a sheath or A-line to avoid being overwhelmed by the maxi dress.
Silhouette is the Foundation

This is the importance of silhouette in fashion, especially in petite fashion. As the petite figure depends on what you wear to lengthen and elongate, the silhouette of the petite garment could create it or break it for you. Because of your petite figure, the most flattering formal maxi dresses are those with simple and sleek silhouette to complement your natural body shape. Each silhouette produces a different shape and suits different body types, but there are several that usually look better on petite women than others.

The Neckline Makes a Big Difference

When it comes to petite formal maxi dresses, v-neck or sweetheart necklines are your best choices. So don't underestimate the power of the neckline. They can completely change the shape of your face and even the look of the entire garment. Both the v-neck and sweetheart necklines can create enough space around your face. What that does is to make your face look more slender, even without the help of makeup. Most petite women have the typical feature of shorter necks. A deep v-neck can lengthen your neck and make you appear taller. The v-neck is also eye-catching up and down, creating the most flattering shape for petite women. If you are a petite pear-shape, off-the-shoulder maxi dresses will be the most flattering to you. As off-the-shoulder neckline can form a horizontal line to balance the heavier bottom half of a petite woman.

Treat This as an Investment

Since formal dress can be such a high-quality item, it should be treated as an investment when buying. From a long-term perspective, the investment mentality means that you are buying the best value, and the spending mentality will make you jump up to the trend of the quarter at the lowest price this season. You will need more than one formal dress in your closet to participate in different events. Most of us prefer certain patterns, styles and even length, and we tend to be adding similar style to our wardrobe. For formal dresses, the wise way to shop is to invest in an eye-catching item to make you look different in the event.

Pick Your Jewelry Wisely

When we talk about the styling of a formal petite maxi dresses, jewelry is a must. For a petite woman, the key to creating a jewelry style is to attract attention from above rather than downward. This means that wearing anything higher up like hair accessories and necklaces will attract attention to your face rather than others. Necklaces with long pendants are an excellent choice for elongating your short neck. The reason is that the long pendant will attract your eyes up and down, making your neck look longer than it actually is. If you are a petite woman, you also do not want the necklace to be too long to hang under your chest and look unsuitable for you. The more pleasing length of a necklace is 2 to 3 inches above the chest, which can draw more attention to your face and can be worn with any neckline.

Select the Right Shoes to Match Your Maxi Dresses

Pairing high heels with formal petite maxi dresses will make you appear taller. Generally, nude pumps are the most favorite shoes to petite women, as they look like extension of your legs. If you are a petite woman of color, then any shoes that are closest to you skin tone will be most wonderful to you. Pointed high heels are best for short women.Compared to round toes or square toes, it may be only half an inch away, but this slight change makes your legs look completely different. The lower the upper, the longer your legs will look. If you don't know what the upper is, consider those pumps that show a little bit of your toe cleavage.

The Bag Completes the Overall Dress

Choosing the suitable bag to match the petite maxi dresses is an important step to finish the whole outfit. When it comes to selecting the best handbags for petite women, size plays an important role in whether or not they are appropriate for them. They main idea here is that a petite woman should carry bags proportional to their sizes. If a petite woman is carrying a huge handbag, it may look as if she is struggling.
On the other hand, it doesn't mean smaller is always better, because all petite women are slim and skinny. If you are a curvy petite woman, carrying a small clutch may actually make you even larger and lose the original balance. Therefore, the key is that the size of the bag should be balanced with the overall proportion of a petite woman.
Source: https://newsideology.com/the-best-tips-of-styling-maxi-dresses-for-petite-women/
A perfect figure to die for is the dream of every woman. The ideal figure is not a standardized thing, but the human body has many shapes, and all of which can be called perfect. One of the body shapes is the "Pear-shaped figure". As the name suggests, pear-shaped bodies look like a pear. If you have discovered yourself as a pear-shaped woman, then we have some wholesale womens fashion tips listed down for you.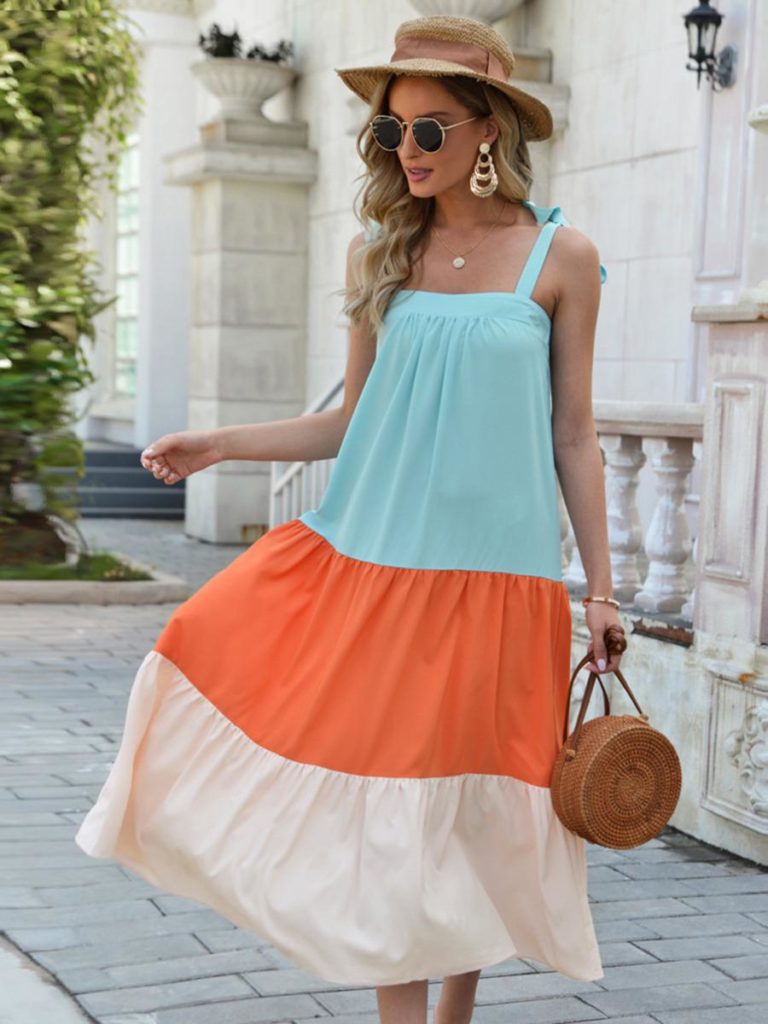 How to Dress up a Pear-shape Figure
Give it a good read to know how to look flattering in your outfits that look best on a pear-shaped figure. Here are some stunning tips you must know if you have a pear-shaped body and wonder what attire would look best on it.
1.Which Neckline Looks Best for a Pear-shaped Women
If you have a pear-shaped body, different types of necklines can work well for you. However, if you want to create a certain width on your shoulders in order to balance out your wider hips, you should pay attention to the styles of the neckline and boat necks. Similarly, it is found that the low-cut neckline is the perfect choice for pear-shaped women. The reason is that a low-cut neckline usually helps to bring your face more in focus instead of your heavy bottoms.
2.Avoid Wearing Tight Fitted Shirts
Since the bottom of the pear-shaped body is heavier, it creates an unbalance with the upper half of the body. To solve the problem of this unbalance, you should focus on your upper body to define the waist. Avoid wearing too tight shirts or too loose blouses to avoid overemphasizing the thighs and hips. Fitting-well shirts will give you a more exquisite look rather than a skin-tight style or skin-tight ripped jeans ending at the waistline.
3.Coats for Pear-shaped Women
Every woman wants to wear a flattering coat to keep herself stylish as well as warm in the winter. If you are a pear-shaped woman and are looking for a coat that works well for your unique figure, we recommend that you follow the same as we suggested for your shirts, the same will go for the coats. More suitable will be a long loose coat, which can draw attention away from your waist and heavy hip area. Some flattering coats with buttons or belts may be an ideal choice. In addition, a coat with a large fur neckline will help you create an hourglass illusion. Knee-length coat with a belt can help you accentuate your small waist.
4.Chic Skirts for Pear-shaped Figures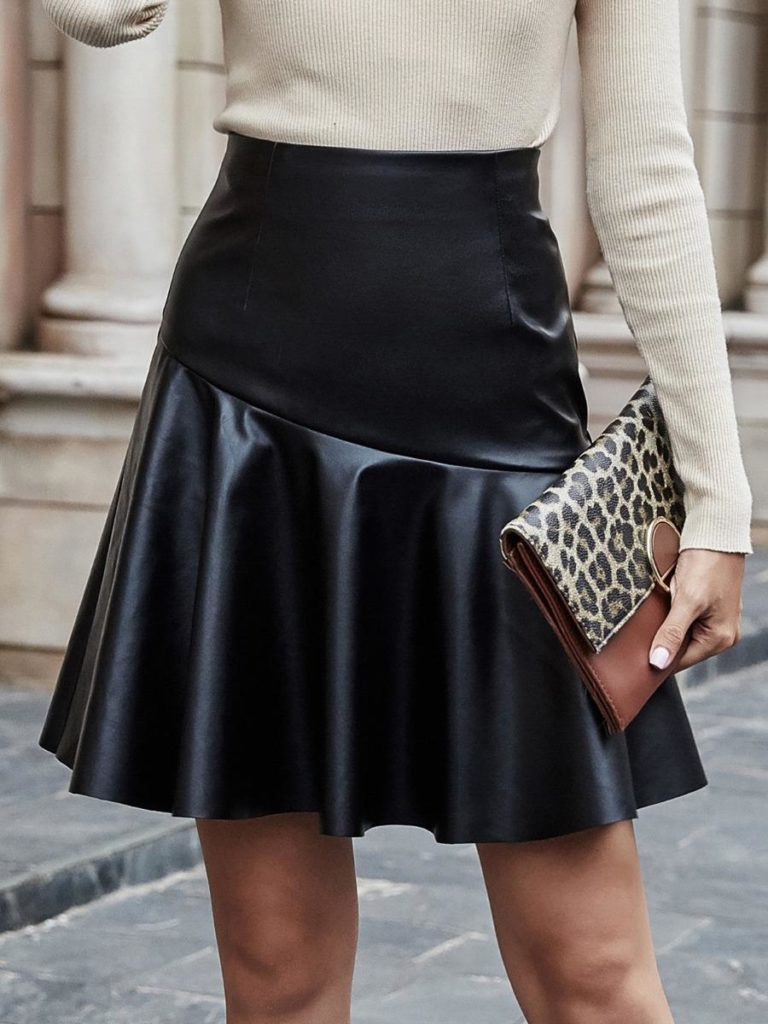 More than a perfect type of skirt for a pear-shaped figure will be an A-line skirt. This will make your waist look slimmer and obviously giving you a more refined look. A-line skirts will skim your body to help you overemphasized the bottom. You can also throw on skirts with stylish ruffles and skirts embellished with beading at the bottom hem. These skirt styles can help you draw attention to your curvy bottom without adding bulk to your broad hips.
5.Jeans Styling Ideas
If you have a pear-shaped body, finding jeans that fitting-well and may be a difficult challenge. The mantra of a woman with pear-shaped bodied will be dark flared bottom jeans. Avoid tight, faded colored jeans as it will draw everyone's attention to the wide hips and thigh area. Opt for a tight belt, it will give a more prominent look to your heavy bottom. You can also go for high-waist jeans, as these jeans have a curved waist and can fit your waist best. What's more, wearing high-waist jeans can also lengthen your legs.
6.Go for Right Accessories
It is recommended that pear-shaped women accessorize their top part with the right accessories, such as necklaces and earrings. Achieve a perfect balance among accessories like necklaces, earrings and scarves to provide yourself with a bright and fresh look. However, do not over-do everything, otherwise, it will look more tacky. You can wear big round earrings or small pearl-shaped studs as it is evergreen jewelry style at any time. If you want to take your attention away from your thighs and buttocks, you can also wear colorful scarves, personalized hats, etc., which all look good.
7.Best Bags to Carry
A girl with pear-shaped body can hide wider hip with the right bag style. For all pear-shaped women with heavy bottoms, bags featuring shorter handles may be your best choice. These bags will cling to your shoulders, making them a look wider. Or you can hold it in your hand or wrist to enhance the visibility of the appearance. Side bags or sling bags aren't appropriate for pear-shaped women, do not shop them to bring attention to your heavy bottoms. As far as types of bags are concerned, you can also carry oversized bags as well as clutches, which will add more luster to your charming look.
Source: https://www.articlenoon.com/top-fashion-tips-for-women-with-pear-shaped-figure/