In a rapidly changing world, fashion has become an indispensable part of our lives, there is always something new to look out for, from trendy crop tops to denim styles and how to pair different wholesale dresses. If you are also one of those people who love something classy, magnificent, yet very flattering on your body, then you will find that the place you visit today is quite valuable.
There are a variety of empire waist dresses that complement your kind of shape. Whether your figure is pear, apple or curvy. With its unique style, you will definitely express your own opinions when you step into any occasion. This kind of dress is such that you can rock it no matter the occasion, or the kind of body you have. It is almost always suitable for every body shape, you only need to pick the right fabric and style for your own unique figure.
Definition of Empire Waist Dresses
Empire waist dresses, also known as empire silhouette or empire waistline dresses, is one of the styles of dresses, in which the corset of the dress is below the bust and gives it a high-waist appearance. It flows down as a gathered skirt which is elegant and loose-fitting. A simple empire waist dress will lengthen the wearer's figure as they are particularly appropriate for petite women or plus size women who would want to pay more attention from the waist to their bust.
The History of Empire Waist Dresses
This unique style is actually part of the Neoclassical fashion. It can restore the style of the Roman art which portrayed women wearing loose fitting rectangular tunics. The empire style dresses began to be popular in western and central Europe at the end of the 18th century, most regions also followed this trend with raised waistlines, becoming a popular fashion style for women. It was usually dressed in white to indicate a high social status. Nowadays, this kind of dress style is widely chosen among brides for their wedding day.
How to Rock an Empire Style Dress
There are quite a number of things to keep in mind when you plan to wear an empire waist dress. These guidelines will provide you with better help in wearing this style of clothing, and make you look like this outfit is customized for you.
Do away with Billowy Fabrics

When choosing a fitting empire waist dress, you must remember to avoid billowing and gathering fabrics. Having a pleating under your waistline can make the dress look more flattering in the tummy area. In addition, the billowing fabric tends to hide your shape. Instead of choosing this kind of fabrics, it is better to look out for a more body-hugging fabric.

Check out an A-line or Sheath Dress

When you are wearing an empire-style waist dress, the best cut will be an A-line or a sheath. Any of them you select will highlight your narrowest points while also showing the curves rather than hiding them completely. You can also go for long-style dresses as they look great with empire waist but get the one that can skim your lower body. Make sure to avoid picking baby-doll dress styles.

Do Less Voluminous Bottoms

If you are going to throwing on an empire-waist top, make sure to avoid bottoms that will increase the volume of the dress, such as wide-leg trousers or A-line skirts. In fact, separating the two styles does not work well with the pairing. You can rather opt for slim styles like skinny or straight-leg denim jeans.

Take on Deep Necklines

Flattering necklines like sweethearts and v-necklines look stunning when wore with an empire-waist top or dress. They increase the length of the natural neckline, making your body seem taller and slimmer.
Four Empire Waist Dresses You Should Try
In this section, we will talk about some of the wonderful empire waist dresses you can get for all kinds of occasions. Ranging from proms, weddings to just any formal or casual gathering.
Maxi Empire Waist Evening Dresses

With a charming v-neckline, the pretty evening dress features flowing sleeves with a subtle high low hemline. You will stand out from club events, prom party, weddings or any formal outing.

A-line Empire Waist Dresses

The fantastic sequin-upper empire waist dresses will make your look more flattering from a wedding to a prom or cocktail. It has a high neckline and lace bust, which will look great in an evening affair.

V-neck Empire Waist Dresses

The dress with its simple empire waist chiffon, it makes a bridesmaid look perfect for a wedding event. It features a deep v-neck, no padded undergarments and lining. This is definitely a combination you can't resist!

Off-shoulder Empire Waist Dresses

The outstanding empire waist dress features an off-shoulder neckline and flowing sleeve with a waistband design, and then accompanied by wide shoulder straps. It is ideal for evening party, graduations or any other casual events.
Source: https://mygyanguide.com/empire-waist-dresses-can-ramp-up-your-look/
Everyone has their favourite jeans, whether it's your best pair of skinny jeans or your most comfortable boyfriend jeans. No matter what your style is, it is more than likely that you've had your beloved wholesale denim jeans for a while. After all, they are timeless and they stay fashionable season after season. However, after wearing the same jeans for a long time, you may fall into style ruts, always pairing them with the same old pieces. Well, no more! Give the boring t-shirt and sandals a miss this season and show off your favourite jeans through styling.
How to Wear Skinny Jeans

Skinny jeans have been a wardrobe staple for every fashion-loving woman for a long time. The close-fitting style is easy to wear and can bring incredible weight loss to your legs while still highlight your wonderful curves. This season is all about choosing the right balance for your skinny jeans. As most skinny styles come in the most flattering colors, such as dark blue wash or black, find balance by throwing on them with light colored tops and shoes. White blouse, in particular, look great when paired with denim skinny jeans. Select a loose style, such as flowing off-the-shoulder top, to balance out the extremely slim look of your pants.

How to Wear Ripped Jeans

Ripped jeans are a style that every woman has tried at least once in their lives. The deliberately worn style of denim is available in a variety of cuts but always provides a similar feel. Tame your ripped jeans by pairing them with certain finished pieces this season. The balance of polish will adjust the texture of your jeans and create an avant-garde fashion look. Wear items that are sleek, which can offer coverage to offset the flashing of skin from your legs. Turtleneck sweaters and blazers are an simple way to get the desired look. Finish the whole look with chic accessories, such as necklaces, a handbag, and sunglasses.

How to Wear Boyfriend Jeans

Boyfriend jeans make your weekend outfits look cute and relaxing, comfortable and fun to wear. Pair your boyfriend denim jeans with a loose, knit jumper for cooler weather and a crop top or loose blouse for warmer weather. No matter which style you choose, make sure to keep your waist defined to help balance out the weight of these loose, oversized pants. In terms of footwear, boyfriend jeans can be dressed up or down this season. Pair them with some open-toed high heels to add shine, or wear them with the casual white sneakers that are essential this year. Just keep in mind to roll the cuffs of your boyfriend jeans up at the bottom. Doing so will create a flash of skin at the ankle, preventing your body from looking overwhelmed in fabric.

How to Wear Cropped Jeans

Cropped jeans are one of the most popular styles this season. The simple cuts are most commonly seen on straight and skinny-leg styles of jeans sitting on the hips. Wear your cropped jeans this season with the hems position is about one to two inches higher than your ankles. This tiny skin sparkle will create a perfect balance when worn with flat shoes, such as sneakers and sandals. If you want to wear high heels, choose a chunky style with closed toes to maintain the appearance. Finish off this fantastic weekend attire with a relaxed top to keep things casual and let the length of the jeans become the focus.

How to Wear High-waist Jeans

High-waist jeans are just so wrong that they are right. Maybe we don't know what exactly it is, but those mid-blue, straight leg styles are somewhat fashionable. Perhaps this is how they perfectly cinch the waist, creating a coveted hourglass silhouette. Or perhaps it's the way that they lengthen your legs. No matter what it is, they are our favorite. So if you love them too, rock them proudly this season. Just remember to leave the rest of your old styles at home and go for stylish items instead. Experiment with feminine blouses and tops in lightweight cotton and satin to add a sense of modernity and fashion. If you are still worried about the look being not quite right, add high heels to immediately enhance your youthful style.

How to Wear Straight-leg Jeans

While straight-leg jeans are a classic style, they can appear a little uninspired sometimes. In order to make the straight-leg style more interesting, please choose a design with large cuffs at the bottom and match it with a striking style. An eye-catching T-shirt, a printed blazer and statement shoes all make great additions to the garment with this type of denim.

How to Wear Flared Jeans

Flared jeans are back and street style fashionista loves to them all season long. Whether you choose an oversized style or something more refined, these stylish jeans from She Star are a must-have in your wardrobe. To follow the trend, wear these jeans with other 70s fashion styles, such as platform heels and a leather jacket.
Source: https://mygyanguide.com/how-to-style-your-favorite-denim-jeans/
There are various ideal outfits for women in every season, and the winter is no exception. Wrapping up in some stylish and trendy knitwear to welcome the arrival of this winter. All knitwear such as cardigans, wholesale knit dresses, scarves, gloves and hats are brought out in winter. I believe you must be ready to welcome this winter season with those cozy and warm pullovers and Knitwear. Every girl loves to look attractive, and winter can also allow them to look as cute and charming as they want due to these chic knitwear. But we all know that keeping warm in winter is equally important.
Knitwear Styles to Try this Winters
For women who always want to look stylish, it becomes a bit tricky when it comes to large Knitwear. What outfits that a girl should wear with it to achieve the best look? And what styles of knitwear are in fashion? You will find hundreds of trendy girl outfits to wear with Knitwear this winter. There are many different ways to style your beloved and stylish knitwear this winter so that you can stay both warm and good looking.
Prepare to rock warm scarves, beautiful dresses, cardigans, cozy and oversized sweaters with knitwear this winter, and enjoy the winter occasions in a fashionable style. Taking out your time to find more clothing styles, and I hope you will find your pretty outfit to wear with your favourite knitwear and try this winter.
What are Different Styles of Knitwear
Cold-weather style wants you to stay warm in knit. Taking a walk in winter, chatting with friends in coffee shops, and happy moments with your loved ones would be incomplete without your favourite chunky cardigan or knit dresses. There is no doubt that knitwear can make your cold months extra warm and comfy. However, how girls can match their beloved Knitwear with their outfits to make it extra attractive is also crucial.
Knitwear comes in various styles, colors, patterns and thicknesses. Although cardigans are more fitted, which can also be found with wide sleeves and lengths down to the knees. Not all cardigans have a fixing function either, some may only naturally fall off the shoulder while some may just have a thick button at the collarbones. Of course, this is more for feature purposes than actual practicality.
How to Wear Cardigans with Style
Cardigans can change your winter outfits. No matter where you go, you can wear a stylish cardigan on any occasion, whether it is a casual gathering with friends or a formal business meeting. To create a weekend look, you can wear a cardigan with typical jeans, a white T-shirt, or chinos and sneakers will absolutely look cool.
How will Knit Jumpers Look on Your Outfit
When it comes to looking stylish during the cold months, knit jumpers have a broad spectrum. Chunky knitting patterns are the most popular, as are light-colored knitting patterns with a simple logo on the front. There will also be an influx of stripes and animal patterns also this year. Knit jumpers are not really warm but also versatile. Wearing a dark-colored chunky jumper with any casual blazer can create a stunning winter look.
What Shoes Should Your Wear with a Knit Sweater
The obvious solution to this question is a pair of boots. The best option of shoes is none other than stylish boots which have become a popular item for girls to wear with their sweaters and other knitwear in winter. You can wear leather work boots and motorcycle jacket with classic blue jeans that will definitely look great with your knitted sweater.
Wear Jewelry with Your Knit Dresses
Of course, jewelry especially a choker, or single necklace will look wonderful if you are wearing a boat-neck or V-neck knit dresses. This is because the boat-neck dress is open and your neckline is visible. Likewise, if you have a cowl-neck dress, cuff bracelet and earrings will look chic and stylish. Minimalist dresses such as funnel-neck dress make your costume elegant when paired with dangling earrings.
Accessories to Go with Knitwear
Complete your appearance with this chic cropped turtleneck sweater. You can wear it with loose black trousers and high-heels to create the illusion of tall legs. As an alternative, high-waist pants or a maxi skirt can also be a relaxing way to look fashionable without dressing up too much. This is an excellent choice for girls who want to spice up their winter wardrobe.
Conclusion
When deciding what to wear that is not only warm but also make you look stylish during the winter, believe us! There are no hard and fast rules, You can experiment with your casual garment and of course your beloved knitwear. For your convenience, we have brought up some cute outfits from our online store wholesale women's apparel supplier She Star that girls will surely love. All of these looks are unique, exquisite, and perfect knitwear looks, so that you must have a try this winter season.
Source: https://magazinekalakar.com/exquisite-attire-to-wear-with-knitwear-for-women/
Do you often have trouble choosing clothes for your baby? Do you often worry about your child wear uncomfortable? Are you looking for a long-term supplier of quality children's clothing? Kiskissing is one of the professional wholesale baby clothes supplier. There are thousand of styles on-sale. You will choose your interested item at Kiskissing.
Rompers & jumpsuits. Every family with a baby is familiar with rompers and jumpsuits. From newborn babies to 2-3 years old babies are suitable to wear rompers and jumpsuits. Most crawling suits are made of soft fabric such as pure cotton or cotton blended. And the costumes are designed not to shackle the child. Not only can children have fun, but it is also very convenient for parents to change clothes and diapers for their children. They are really the first choice for a lot of families.
Children's dresses. I believe there are a lot of moms and dads are very keen on dressing up their babies. If your baby is a girl, it is more like to buy babies dresses and small shoes for the baby to wear. Kiskissing has thousands of wholesale baby clothes.There is also a huge variety of wholesale dresses. Whether it's a casual dress for daily life or a dress for activities. Whether it's a spring dress or a winter dress, you can find one that you like in KisKissing.
KisKissing is a professional wholesale website for children's clothing. Since the opening of the store has been favored by many customers. And the price is good. After you sign up at KisKissing, you will have an wholesale account, and you can enjoy all our wholesale benefits and discount.
KisKissing is a wholesale baby clothes supplier , but there is no minimum order quantity. It is convenient for you to place the sample order to test the quality. What's more, the delivery time is fast. They cooperate with the best express company such as DHL/FedEx/UPS. It usually takes around 13 days to get the package. If you want to get more details, please contact Kiskissing.
Source: https://www.sastablogger.com/how-to-choose-the-right-wholesale-baby-clothes/
After spring, summer, autumn and winter, after a change of mood, facing the coming new year, everyone is looking forward to a complete relaxation. The easiest and most direct way to relax starts with your outfit tomorrow. Easily set up but beautifully dressed, it naturally achieves the subtraction of time and energy, and the addition of mood and image. With this minus one plus, the state of relaxation can be found instantly.
For women, wholesale womens skirts can be said to be a single product that cannot be given up all year round. In the autumn and winter seasons, most of the longest skirts that everyone starts with are half-length skirts. Compared with dresses, half-length skirts are more malleable. Not only are styles diversified, they can also be matched with various tops to create a warm and fashionable style, which is practical and beautiful.
LACE-UP SPLIT HEM LEATHER SKIRT

Of course, the dress is also an indispensable item for autumn and winter. Wearing a dress in autumn and winter basically does not have to worry about what to match. As long as you put on a coat outside, you can go out, which is convenient and ensures good looks.

SOLID COLOR FRINGE TRIM TEXTURED PLEATED DRESS

Many people think that a long skirt can cover up the problem of thick calf. In fact, when covering the thick legs, it will also invisibly reduce the proportion of your body. Long skirts are more suitable for simple styles. You can choose an A-line version of the long skirt, which stretches the waistline, while also covering our hips.

BELTED WAIST BOTTON FRONT CORDUROY SKIRT

The pleated skirt from She Star comes with fairy air, which is very gentle and sweet when worn alone.
It can be matched with sweaters and suit jackets to neutralize the gentle temperament, and the overall shape is more capable and neat.

HIGH RISE COLOR BLOCKING PLEATED SKIRT

In the autumn and winter seasons, while ensuring your own temperature, spend some careful thought on wearing or try to match different styles yourself, so that the whole person will immediately become different, and it is also a dazzling one in the crowd.
Actually, a minimalist closet can be anything you want it to be, and "boring" may not be on your wish list. The basic principles of a minimalist wardrobe is to streamline the the essentials, keep only the items you need, going for quality over quantity, and choosing pieces that are versatile instead of trendy. In this way, you are going to save money as your purchase volume will be reduced, even if the statement items you buy are higher quality and more expensive than what you currently own. However, you can also save more time because your wardrobe will be smaller and most of the wholesale womens clothing in your closet will work together. Therefore, no more marathon sessions of trying on garment to determine what to wear.


It sounds pretty good. But if you are used to maintaining a huge closet and experimenting with various colors, patterns, and funky silhouettes, then you may still worry that if you reduce and turn off most of the brightness, you will end up feeling bored with neutral colors. Minimalist dressing may not be suitable for everyone, but high-quality fabrics, interesting proportions, and great attire are things that everyone can enjoy. Keep reading the article below to learn how to dress like a minimalist with womens clothing.
Source: https://www.24article.com/how-to-dress-like-a-minimalist-with-womens-clothing.html
This season is time to be jolly and break out your holiday dresses! I love this time of the year best as no matter where you go, you can always dress up yourself! Wholesale party dresses are a staple in your wardrobe between November and January. And you never know when you will need one. I always prefer to have multiple options rather than under-dressed, so I like to keep a few dresses in my closet at this time of the year to be prepared for the last parties and invitation. Today I will introduce how to choose the best holiday party dress for your parties and events.
How To Choose Your Holiday Party Dresses
Decide What to Invest in

The first step in choosing a dress is to figure out how many parties and occasions you will need to attend. Decide whether you want to invest in a really nice and expensive one and wear it several times, or choose a few lower-priced dresses. Before making this decision, carefully consider the participants to each of the parties on your list. If you will be seeing the same group of people at several events, it is recommended that you go with the lower-priced options and choose multiple outfits. However, if the majority of people are going to be different at your events or parties, investing in an excellent holiday dress might be the best choice for you!

Read the Invitation Carefully

Of course, not all holiday parties require modest and elegant dresses. Read the invitation letter carefully and think about the most appropriate outfit. Sometimes there will be a specific dress code, pay attention to the location. If you are outdoors, or in a tented venue, you may want to wear a jumpsuit or something that can cover your legs. The ugly sweater parties are big this time of the year, I think you do not want to be the only person showing up without one.

Figure out the Occasions

In addition to a dress, you may need to bring a gift if it is an occasion to exchange gifts. And you need to understand where these things may fit into your budget. Finally, you will want to consider the other guests. If it is an office party, you might want to be conservative with something like a fitted and flared dress, but if it's all your friends and you'll be heading to the bars later, a bodycon dress may be the perfect choice.
Holiday Party Dress Ideas
Once you figure out what is required at the party, then you can make your choice of dresses. In my opinion, you can never go wrong with a little black dress. They are classic and will always be a winner. During the holidays, the generally accepted color is red, so maybe a red attire or dress is more appropriate for you being a little more festive.
Casual Party Dress

Casual party dresses are wonderful as you can wear them on other occasions too. They double as brunch costumes, or look like they are best suited for this time of year on date night. Many families may host a Christmas party every year, which is a pretty casual affair. Over the years most girls would go from wearing casual sweater dresses. While not a dress, trousers are a more casual choice for holiday parties. I like these green pants that look chic and are very comfortable to wear for a long time. This attire is another one that you can rock to the office or out to a casual party or evening event.

Semi-formal Party Dress

If your party is more semi-formal, then a cocktail dress or little black dress would be more appropriate for the occasion. Wearing a festive red dress to a holiday brunch that is more semi-formal than casual. In addition, I think it will be difficult for you to find someone unhappy with you being overdressed. As far as I am concerned, dresses are perfect for any occasion. If you aren't given a dress code, then the semi-formal style is your best choice. The velvet faux wrap dress is my favorite style as it looks pretty without being over the top and it doesn't exceed the highest price. The length and style of the dress give it a more casual side, and the burgundy color just screams holiday to me.

Formal Party Dress

This is the one that everyone seems to be struggling with. Formal usually refers to a cocktail dress, but it actually means that you will see everything. From mini dresses to floor length gowns. Just because you see everything does not mean you want to be one of everything. Your host will appreciate it that you follow the attire per her request. Formal dresses are generally a floor-length evening gown or a cocktail dress. This gorgeous sequin dress is one of the favorites of fashionista this season. It's ideal for a formal occasion because it's sparkling, which usually means more fancy, and it has a good length to move around in. I love the long-sleeved and high-neck that keep it classy while still being a mini dress.
Posts you may also like:
Off-the-shoulder Tops Make You Gorgeous in Seconds
How to Dress up the Clubwear to Make You Outstanding
Source: https://www.bingarticles.info/holiday-party-dresses-for-women-will-elevate-your-style/
If you got tired of wearing the typical boring costumes at parties and dinners. Then here are some amazing wholesale womens clothing ideas for you that can bring vibrant and fresh colors to your closet and make the most of your sartorial expertise. Add some trendy fashion pieces to your wardrobe and match them to make it a perfect stylish look that will stand out from the crowd. The past year had some excellent color combinations and versatile cuts. Now you can take off those boring outfits and add some exquisite designed items that will distinguish your style statement from that of others.
Crazy Funky Fashion for Women
Wear Contrasting Colors: Avoid wearing shirt and pants of the same color. Always wear contrasting and mismatching hues, so don't become a matching figure.
Wear a Different Color Combination: To enhance your funky fashion style, go for non-traditional color combinations. Dare to carry red and pink in the same dress.
Getting Better When You Accessorize: Yes, you heard that right. The more, the better. You can bring feather or tassel earrings, a fitting-well belt around your waist, extra-long bohemian styled necklaces or even a large brooch.

Make Vintage Look Great: Rocking long flared pants with a classic length blouse. Floral printed trousers with a pair of solid-colored button-down shirt are worth a try during the spring season.
Say Yes to Fringes: A tasseled shirt or fringed bag both look equally fabulous when it comes to trendy fashion look. This hack does magic at any time of the year. By the way, have you tried tassel footwear yet? If not, then it's indeed worth a try.
How to Wear Funky Clothing for Women
Supermodel Funky Style

Supermodels have been trying hard on some pleasing and eye-catching shades this year. However, which one of them will go well with your skin color and figure type may bother you. Women with slender body shapes should choose the vibrant and bright colors and prints to bring out the extra charm and avoid the dull hues and geometric textures while plus size women should opt for contrasting shades or mismatched prints. Short lengthened dresses with a pencil cut are really the supermodel items, but any girl can slay these costumes if they select prints casually. Also, take a look at these funky festival garment for girls to wear every day.

Floral Funky Style

Floral fashion is all about stunning colors and combinations, and there is nothing better than a lace top and pastel or white floral dresses. Striped shorts look equally attractive when worn with bandage blouse. But plus size women should not wear this kind of top as it will enhance the chubbiness by giving volume. For more amazing floral style trends, check out the best and trendy casual styles of floral.

Funky Dress Up for Beach

What is the appropriate funky outfit for a beach party? This is the solution for you. Stripe printed slit-cut skirt and a loose blouse or a tube crop top. Make sure that the top you choose is a light fabric that is cool and comfy. If you are heading out to the beach, don't miss out on these gorgeous beachwear attire for trendy women.

Semi-formal Funky Attire

Chic light chiffon or any other striking material top in neon or attractive shade, plus a little embroidery or badges looks particularly elegant with formal dresses or skirts. Such combination like this will look stylish and sophisticated with heels and some chic jewelry.

Funky Outfit for Prom Night

A lace mini dress in some striking shades like sequin, plum, shocking pink, and red are a perfect option for prom party. This will make you look indifferent and chic. Wear some classy ear studs and chic high heels to finish the look.

Trendy Funky Street Style

All you need are some chic skirts, which can be lace as well as printed, and some funky belts when it comes to fashion street style. Petite girls should opt for some fitting belts, and plus size girls should add some wide belts to cover the fat.

For Skinny Petite Girls

Girls with slim figure really great in printed in box pleat skirts as they give volume and styles. Wear them up with leggings and oversized sweaters for a fall style fashion or crop tops in winters. In addition, skinny girls can go for off-shoulder tops that will make their sexy bone structure more attractive.

For Plus Size Women

Who said curvy women can't participate in a fashion evening parties? Plus size women can select pleated skirts with tops in floral prints and high heels. These can be worn with stylish and embroidered belts, try to avoid wearing off-shoulder tops as they are significantly fatter.

Essential Makeup Tips to Remember

The nude makeup looks are ideal for funky outfits, but you can go for bright lip colors if you want to look more attractive. Generally, girls prefer wearing a bright red lip color to get rid of a dull look.
Source: https://www.bingarticles.info/funky-clothing-can-offer-women-a-fashionable-look/
A perfect figure to die for is the dream of every woman. The ideal figure is not a standardized thing, but the human body has many shapes, and all of which can be called perfect. One of the body shapes is the "Pear-shaped figure". As the name suggests, pear-shaped bodies look like a pear. If you have discovered yourself as a pear-shaped woman, then we have some wholesale womens fashion tips listed down for you.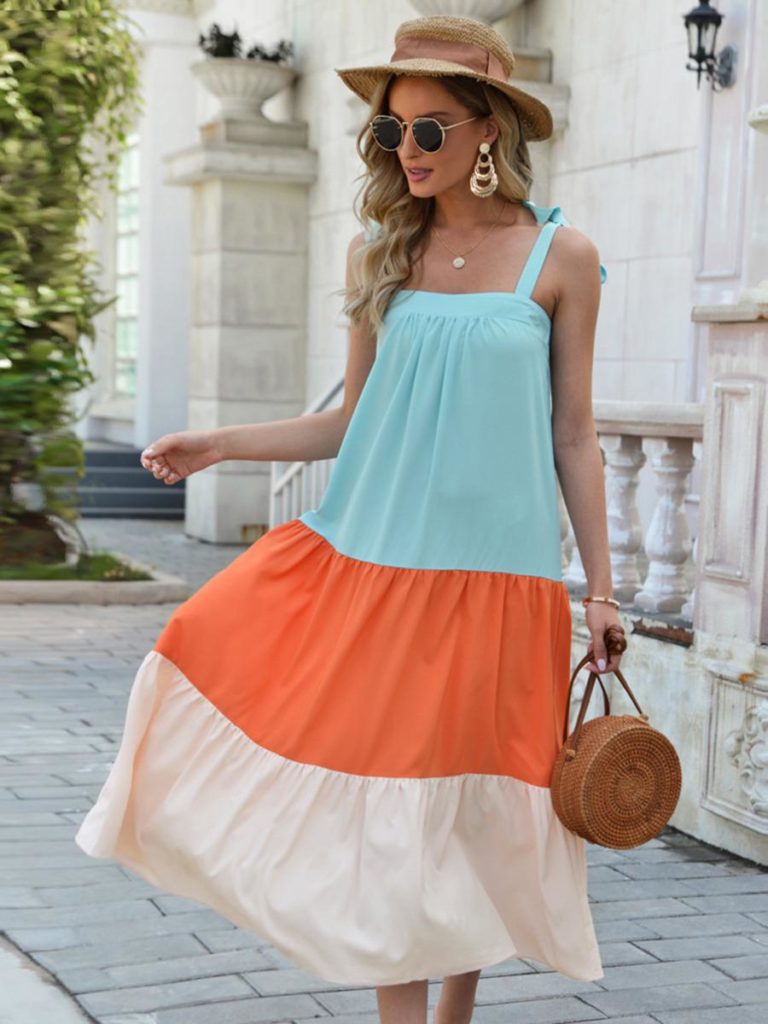 How to Dress up a Pear-shape Figure
Give it a good read to know how to look flattering in your outfits that look best on a pear-shaped figure. Here are some stunning tips you must know if you have a pear-shaped body and wonder what attire would look best on it.
1.Which Neckline Looks Best for a Pear-shaped Women
If you have a pear-shaped body, different types of necklines can work well for you. However, if you want to create a certain width on your shoulders in order to balance out your wider hips, you should pay attention to the styles of the neckline and boat necks. Similarly, it is found that the low-cut neckline is the perfect choice for pear-shaped women. The reason is that a low-cut neckline usually helps to bring your face more in focus instead of your heavy bottoms.
2.Avoid Wearing Tight Fitted Shirts
Since the bottom of the pear-shaped body is heavier, it creates an unbalance with the upper half of the body. To solve the problem of this unbalance, you should focus on your upper body to define the waist. Avoid wearing too tight shirts or too loose blouses to avoid overemphasizing the thighs and hips. Fitting-well shirts will give you a more exquisite look rather than a skin-tight style or skin-tight ripped jeans ending at the waistline.
3.Coats for Pear-shaped Women
Every woman wants to wear a flattering coat to keep herself stylish as well as warm in the winter. If you are a pear-shaped woman and are looking for a coat that works well for your unique figure, we recommend that you follow the same as we suggested for your shirts, the same will go for the coats. More suitable will be a long loose coat, which can draw attention away from your waist and heavy hip area. Some flattering coats with buttons or belts may be an ideal choice. In addition, a coat with a large fur neckline will help you create an hourglass illusion. Knee-length coat with a belt can help you accentuate your small waist.
4.Chic Skirts for Pear-shaped Figures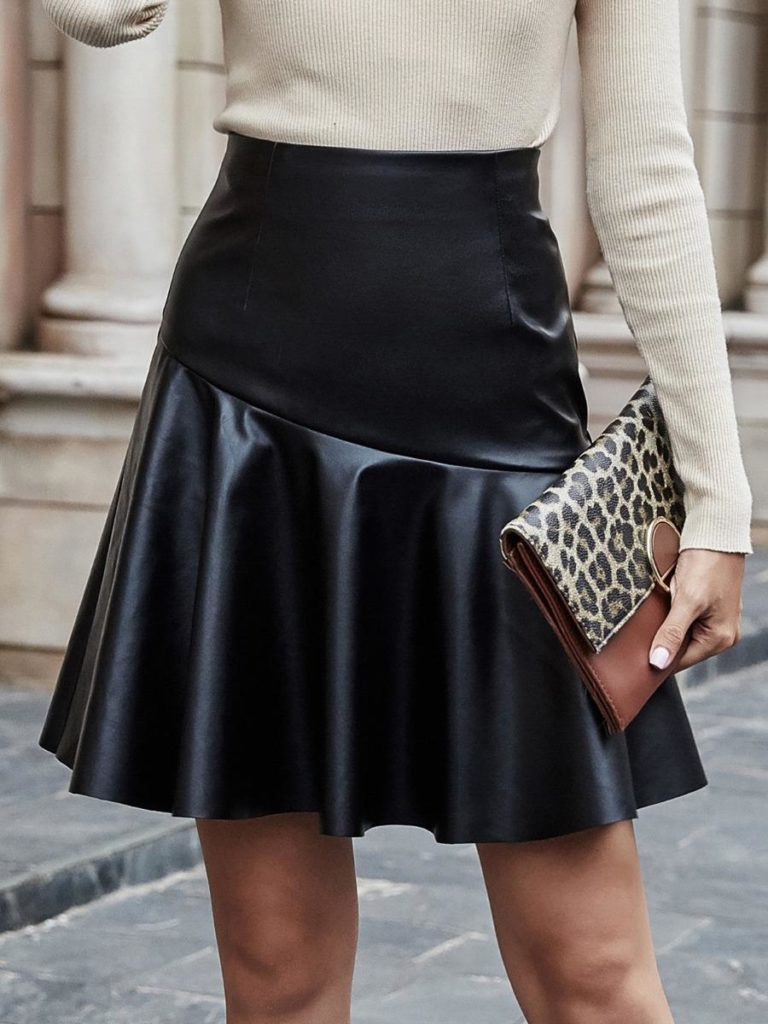 More than a perfect type of skirt for a pear-shaped figure will be an A-line skirt. This will make your waist look slimmer and obviously giving you a more refined look. A-line skirts will skim your body to help you overemphasized the bottom. You can also throw on skirts with stylish ruffles and skirts embellished with beading at the bottom hem. These skirt styles can help you draw attention to your curvy bottom without adding bulk to your broad hips.
5.Jeans Styling Ideas
If you have a pear-shaped body, finding jeans that fitting-well and may be a difficult challenge. The mantra of a woman with pear-shaped bodied will be dark flared bottom jeans. Avoid tight, faded colored jeans as it will draw everyone's attention to the wide hips and thigh area. Opt for a tight belt, it will give a more prominent look to your heavy bottom. You can also go for high-waist jeans, as these jeans have a curved waist and can fit your waist best. What's more, wearing high-waist jeans can also lengthen your legs.
6.Go for Right Accessories
It is recommended that pear-shaped women accessorize their top part with the right accessories, such as necklaces and earrings. Achieve a perfect balance among accessories like necklaces, earrings and scarves to provide yourself with a bright and fresh look. However, do not over-do everything, otherwise, it will look more tacky. You can wear big round earrings or small pearl-shaped studs as it is evergreen jewelry style at any time. If you want to take your attention away from your thighs and buttocks, you can also wear colorful scarves, personalized hats, etc., which all look good.
7.Best Bags to Carry
A girl with pear-shaped body can hide wider hip with the right bag style. For all pear-shaped women with heavy bottoms, bags featuring shorter handles may be your best choice. These bags will cling to your shoulders, making them a look wider. Or you can hold it in your hand or wrist to enhance the visibility of the appearance. Side bags or sling bags aren't appropriate for pear-shaped women, do not shop them to bring attention to your heavy bottoms. As far as types of bags are concerned, you can also carry oversized bags as well as clutches, which will add more luster to your charming look.
Source: https://www.articlenoon.com/top-fashion-tips-for-women-with-pear-shaped-figure/
Hi-low skirts are the new swag of recent years that not only looks the classiest clothing to date but also can boost your confidence if you rock it on the right occasions. Don't worry about how to throw on it or how to match it with the right outfits or accessories, as I will tell you some tips here. These fabulous and matching wholesale womens skirts that make up some excellent hi-low styles will take your breath away in first glance. No need to wait any longer, just take a look and find the styles you have been looking for a long time.
Fabulous hi-low skirts are the best items of attire to wear anytime during the year. As it not only looks stylish but also provides you with great options for a variety of different occasions whether in summer or winter. The long back can help you keep warm in the cold winters, and the short front will give you a sense of ventilation during summers.
How to Style Your Hi-Low Skirts
You may also like:
Casual Office Wear will Make You Comfortable at Work
Source: https://www.articlestheme.com/fabulous-hi-low-skirts-can-boost-your-confidence/